our ORIGINAL DOG TAGS produced byar med
We are the only shop in the Czech Republic that stamps original American identification tags on a new machine made in the USA. Embossed text is easier to read and looks better than debossed text but most importantly, it is the method currently used by the US Armed Forces.
Do you want a custom and high quality stainless steel dog tags embossed on an original American (not a Chinese or Italian) machine? Choose dog-tags from Armed.cz!
The machine only embosses capital letters. Please do not enter any characters other than the allowed ones, i.e. letters with commas, pluses and minuses. In the case of blood groups, use the abbreviations POS - positive and NEG - negative. We also recommend leaving out one or two characters on each line due to the overlap of the dog tag silencer.
Since the text on the Dog Tag is individual each time, we require PAYMENT IN ADVANCE (bank transfer, credit card, cash in store).
EMBOSSING ON REQUEST AT THE SHOP
Our advantage is also the embossing of stamps on demand at no extra charge in our shop in Prague 9. You can also pick up Dog-Tags at other shops without paying for transport (for example, opposite the military unit in Vyškov).
The embossed text protrudes from the sheet upwards (like a credit card). On the other hand, debossed stamps with text embossed by an old embossing machine at best, or a cheap Chinese machine with poor quality embossing at worst, have the letters pushed in.
Another important thing when choosing a Dog Tag is the material of the stamps and chains. The stamps and chains we use for embossing are made of stainless steel and are both produced in the USA. These are the same stamps used by the U.S. Army and we purchase them directly from the stamping machine manufacturer in the USA. So first of all, you are getting original stamps, and secondly, you can count on not having a blackened chain as it is common with non-original stamps.
IDEAL STAMP TEXT FORMAT:
Original format:

Surname
Name
Social Security Number (SSN)
Blood type
Religion

You can replace the SSN with a birth number or military number, for example
We will emboss any text you want on stamps, we only emboss characters that are used on U.S. Army stamps
NOTICE
To keep the text from interfering with the shorthand, it is recommended that you type two spaces at the beginning and end of the text. This will also reduce the number of characters in the line.
We are not responsible for incorrectly entered text.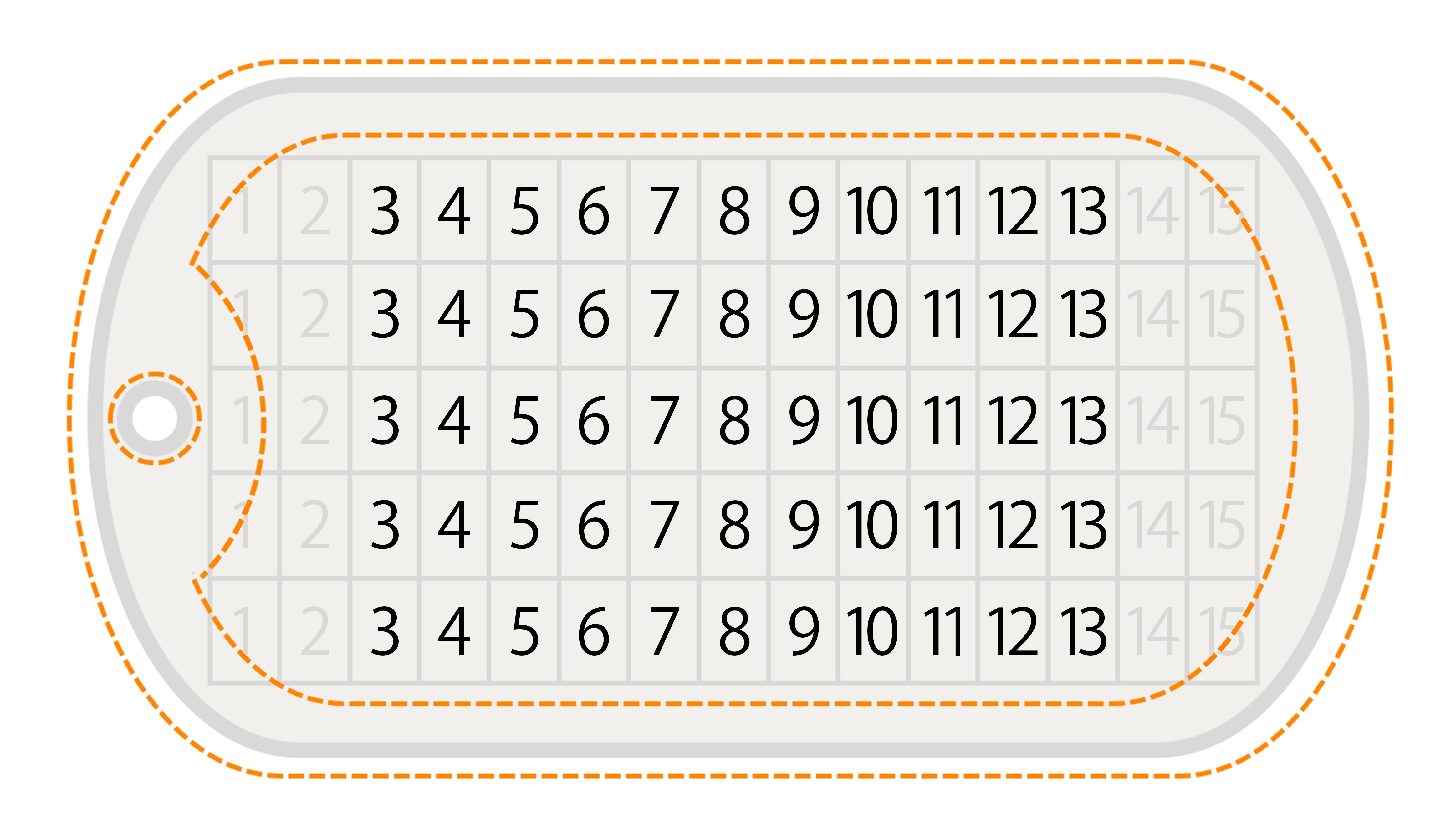 BY PURCHASING DOG-TAGS WITH EMBOSSING YOU RECEIVE:
Stamps with precisely embossed characters
2 stainless steel stamps with custom text
1 stainless steel chain 24" (61 cm)
1 stainless steel chain 4.5" (11.5 cm)
2 silencers
All parts are original and made in the USA - except for the work done in Armed :-)
Possibility to print any text you wish
The same stamps that are currently used by the U.S. Armed forces
What exactly are dog tags originally meant for?
Dog tags are identification tags issued to members of the U.S. Armed Forces (Army, Marines, Navy, Air force, Coast Guard). Dog tag is actually an unofficial name which refers to their resemblance to the actual dog tags.
Primarily, dog tags are used to identify wounded and dead soldiers and to convey basic personal information such as blood type, religion, and SSN (sort of like our birth number). Dog tags are worn in two pairs - one tag stays on the soldier's body and the other is removed for identification purposes when needed.
However, identification tags don't have to be used for their original purpose - since we can emboss any text on the tag, you can use the tags for example to mark luggage when traveling or as a gift. Lately, they have also been often used as a fashion accessory.