For some people, pockets, cargo pants, vests, etc. are enough to carry EDC. If this capacity is not enough, various bags, kidneys, backpacks, briefcases, etc. come into play in such case.
If you come across the term EDC for the first time, it may seem like something very eccentric. Although when you think about it, it's really just a term for old and very common matters. We each carry a volume of items that we simply need or want to have with us.
The most common EDC items include knives, flashlights, multifunction tools, wallets, smartphones, notebooks or pens. The type and quantity of these items can vary greatly according to the taste of each of us.
In addition to taste, of course, the content of your EDC is determined by your activities, what your job is or where you move. If you work in an office that you have 20 minutes from home, your EDC will certainly not be the same as that of police officers or drivers, but again it depends on what you do in that office.
Of course, it is not necessary to perceive the term EDC too dogmatically. Many people have more EDC depending on where they are going, whether they are at work or pursuing a hobby, whether they are in the woods or in the city, how long they have been away from home, etc.
What does EDC actually consist of?
The total volume of EDC can be usually divided into several logical blocks: objects of common use, safety and work tools, health and hygiene supplies and others.
Items of common use
This part includes the already mentioned wallets, watches, vouchers, pens, keys, mobile phones and other necessary electronics such as headphones, laptops, tablets, readers, etc. There is not much to think about stowing these items. In any case, it is always good to have a suitable case, even if you carry some of the above-mentioned things just in your pockets.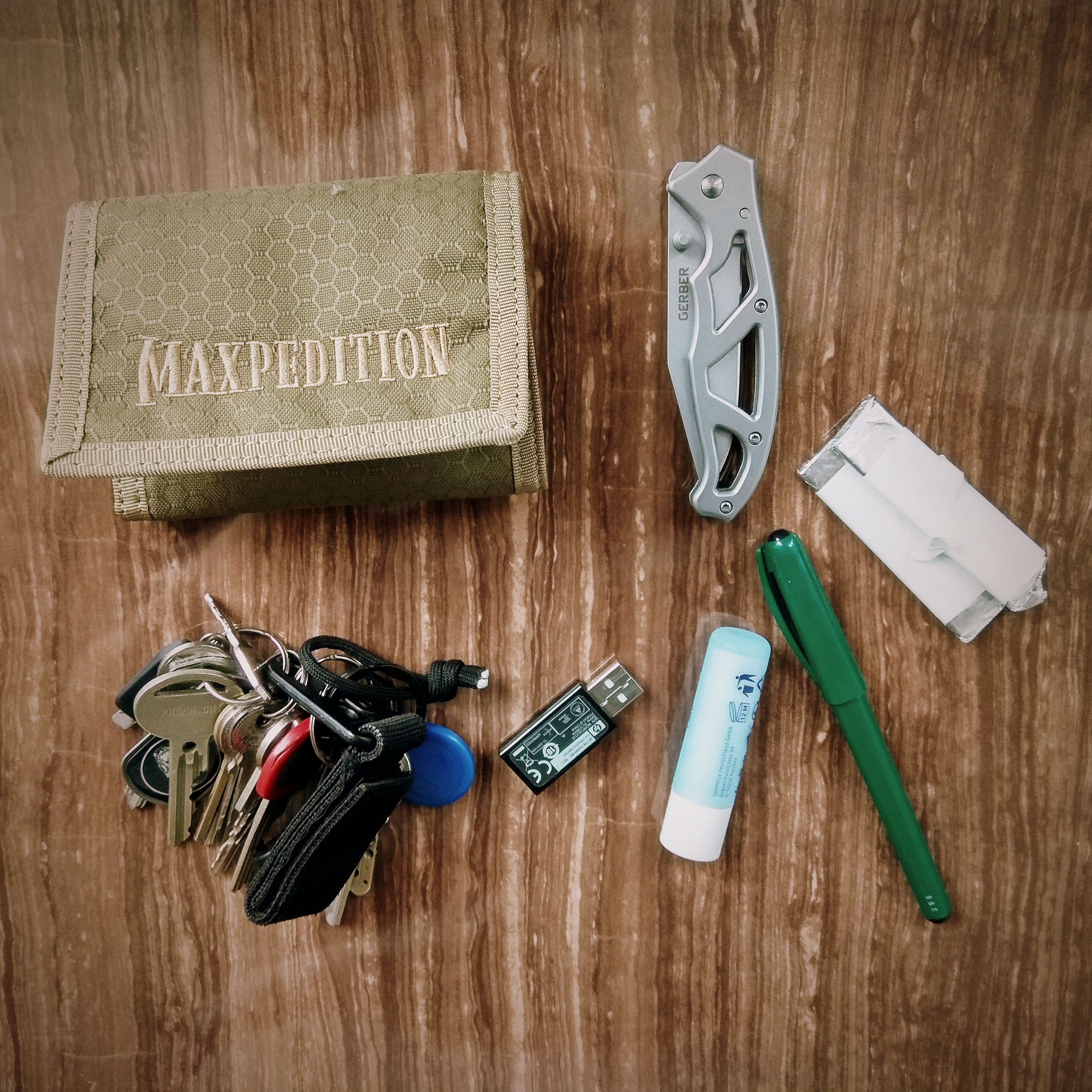 Safety and work tools
In this case, it must be thought about what to choose. For example, there is an inexhaustible number of EDC knives, as well as tool pliers, so-called multitools. In this case, of course, these are work tools, as well as other multifunctional tools, such as wrenches or multifunction cards, which are very suitable for everyday wear due to their size and wide applicability. If you do not carry a knife or a multitool with you, you have certainly got into a situation where it would suit you or someone else. It was necessary to cut something, unscrew or tighten something, pull something small from somewhere, fix something, etc.…
EDC knives are usually folding and compact. The advantage is the so-called pocket clip that allows to carry the knife in your pocket comfortably. They come in different colors and designs. Many people have more knives in their collection and choose, for example, according to the watch they have that day, or to fit them on the phone, or the overall outfit.
As far as defense is concerned, we can choose from a number of self-defense means, even if we do not have a firearms license. At Armed, we can always recommend pepper sprays, that are produced in various designs and volumes. Another popular self-defense device is a telescopic baton, in a compact version of e.g. 18" length, takes up almost no space and you won't even feel it in your pocket or bag. If you insist on a firearm, as we mentioned above, even without a firearms license, you can invest in a gas weapon, it works on the principle of expansion and fires an irritating substance of the same or similar to that of pepper spray to a distance of several meters.
We must not forget to mention the tactical pens or cubotans, which, in addition to the mostly very interesting design, also offer a very powerful self-defense tool, if you have any idea what to do with it.
Last but not least, flashlights are one of the means of work and defense. In addition to its main practical feature, that you can illuminate surroundings, it can also hide an effective self-defense device. Lamps with a metal body, which are very durable, are commonly used today. There is often a different bevel around the lens, which acts as a striking surface. The switch is a pressure type, so instant on and off is very easy. Also, these lamps often allow the use of several lighting modes, such as emergency, when the battery life is radically extended or SOS signal, when the lamp automatically flashes an SOS message in Morse code. Furthermore, the strobe is also a very effective mode of defense.
However, the flashlight can only be a lighting tool. In such a case, small storage devices for keys, etc. are again the most suitable. Today, branded manufacturers offer key lamps that achieve remarkable performance. Usually, USB charging is also standard.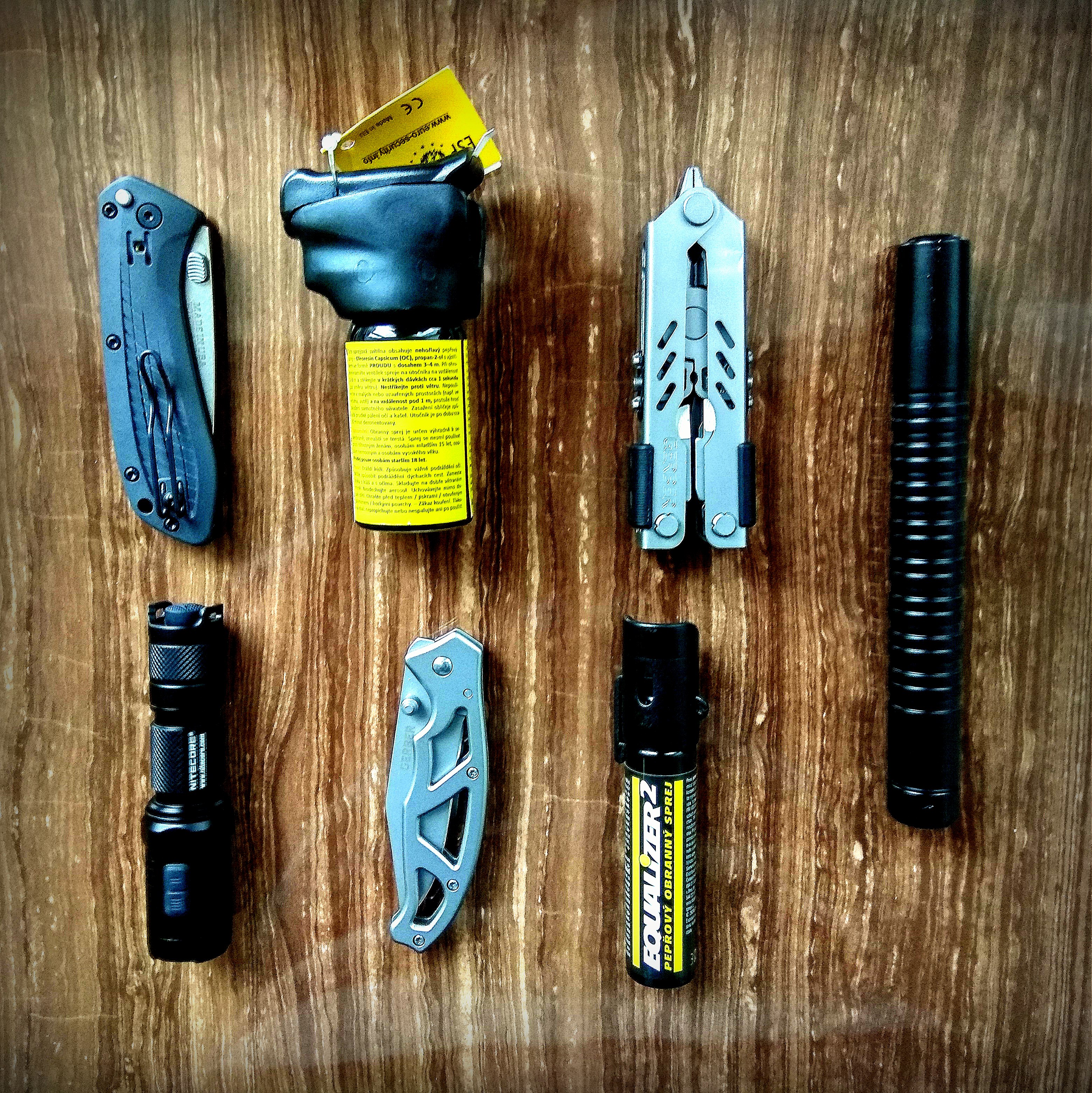 Last but not least, you can also have a headlamp with you. You won't put it on the keys, but if you ever have to shine at work, a headlamp will be certainly much more comfortable and efficient than having keys with a flashlight in your mouth.
Health and hygiene needs
You can assemble the first-aid kit yourself, according to your needs and experience, or use already prepared complete packages. Various survival kits are also often worn, it depends again a lot where the wearer moves and what possible situations he is preparing for.
But what is the same for everyone, is the hygiene needs. Travel brushes, wet wipes, quick-drying towels, all this can be useful in many different situations.
Other
It's up to you how you "build" your EDC, what's important to you, what you need, what you or your surroundings will use. We will also advise you, for example, a classic "paper" notebook that can always be useful. Riteinrain makes pocket-sized notebooks, into which you can write even in the rain (it doesn't mind water). We can also recommend water packaging, hydration is important across everything and always. Nalgene bottles are very durable, fit perfectly into most backpacks and water pockets and are made of BPA-free material. Be sure not to forget sunglasses, you have your eyesight one only. Choose durable goggles with UV filter or polarizing ones. If you are a shooter, we recommend ballistic goggles with replaceable lenses. You can use them also at the shooting range.
Where to wear it all
In these paragraphs, we can easily grind into CCW (carrying a concealed weapon), because many manufacturers, when they deal with the storage of EDC equipment, also deal with CCW.
Pants, jackets, vests
If your EDC consists of a few basic pieces of equipment, you probably won't need any luggage. That is why many manufacturers of tactical and outdoor clothing deal with storing items in their pockets. For example, Helikon-tex offers several models of trousers, where pockets for magazines, concealed carrying of weapons, knives, multitools, pencils, etc. are also solved. They also solve jackets or shirts in a similar manner. You have a pocket for a mobile phone and pliers, and nothing will interfere with you anywhere and no one will know anything. Surplus or Brandit offer very fashionable practical pants with many pockets.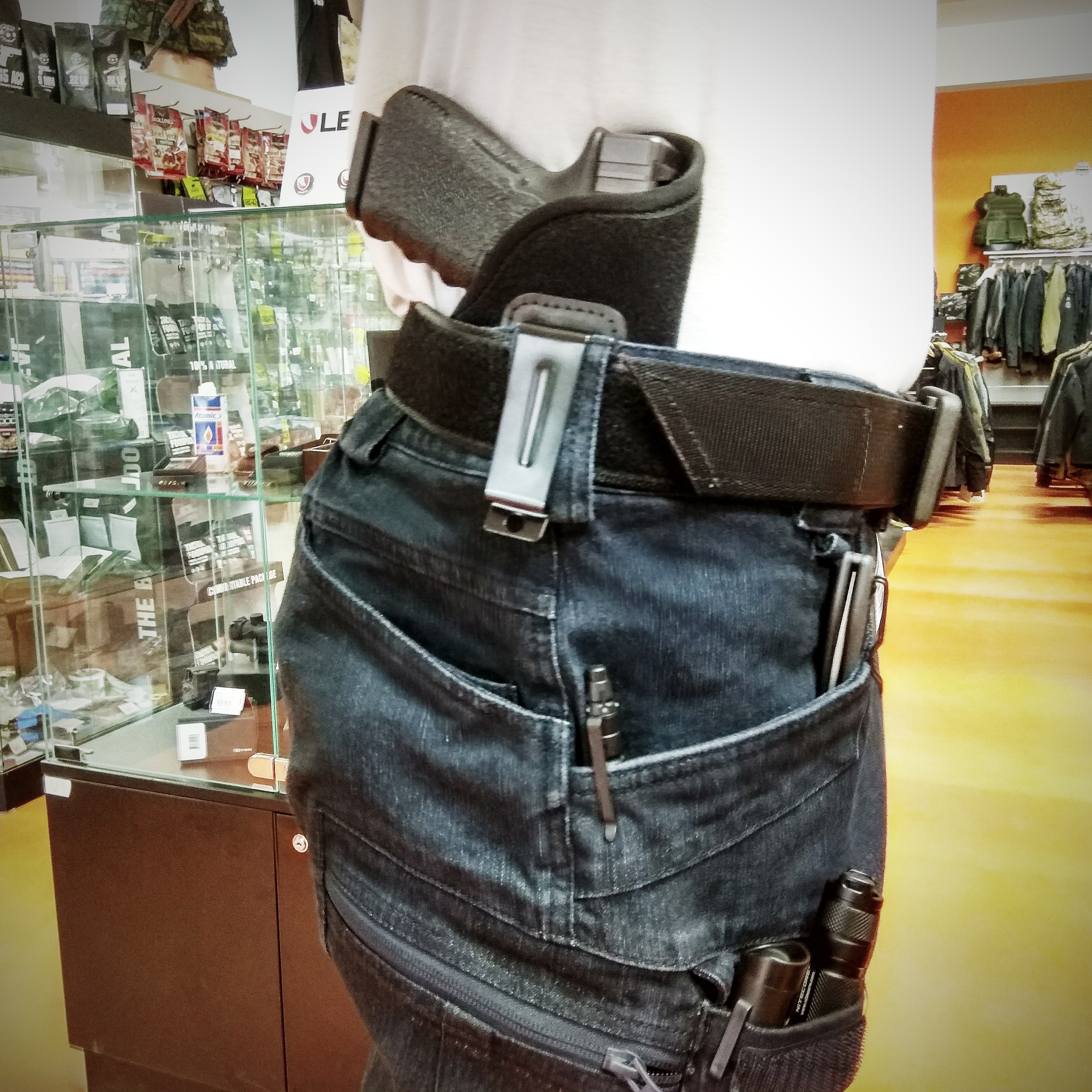 Backpacks, bags, kidney bags
You probably will not have enough space inpants and a jacket for complete EDC . In this case, it is possible to look at a bag or backpack. The Maxpedition company offers a lot of very successful models, in which it solves the internal arrangement of the pockets with various rubber bands and compartments for better organization. All luggage from Maxpedition, including the legendary Fatboy bags, allows hidden and safe carrying of a weapon. Condor Outdoor Tactical also offers several well-done backpacks.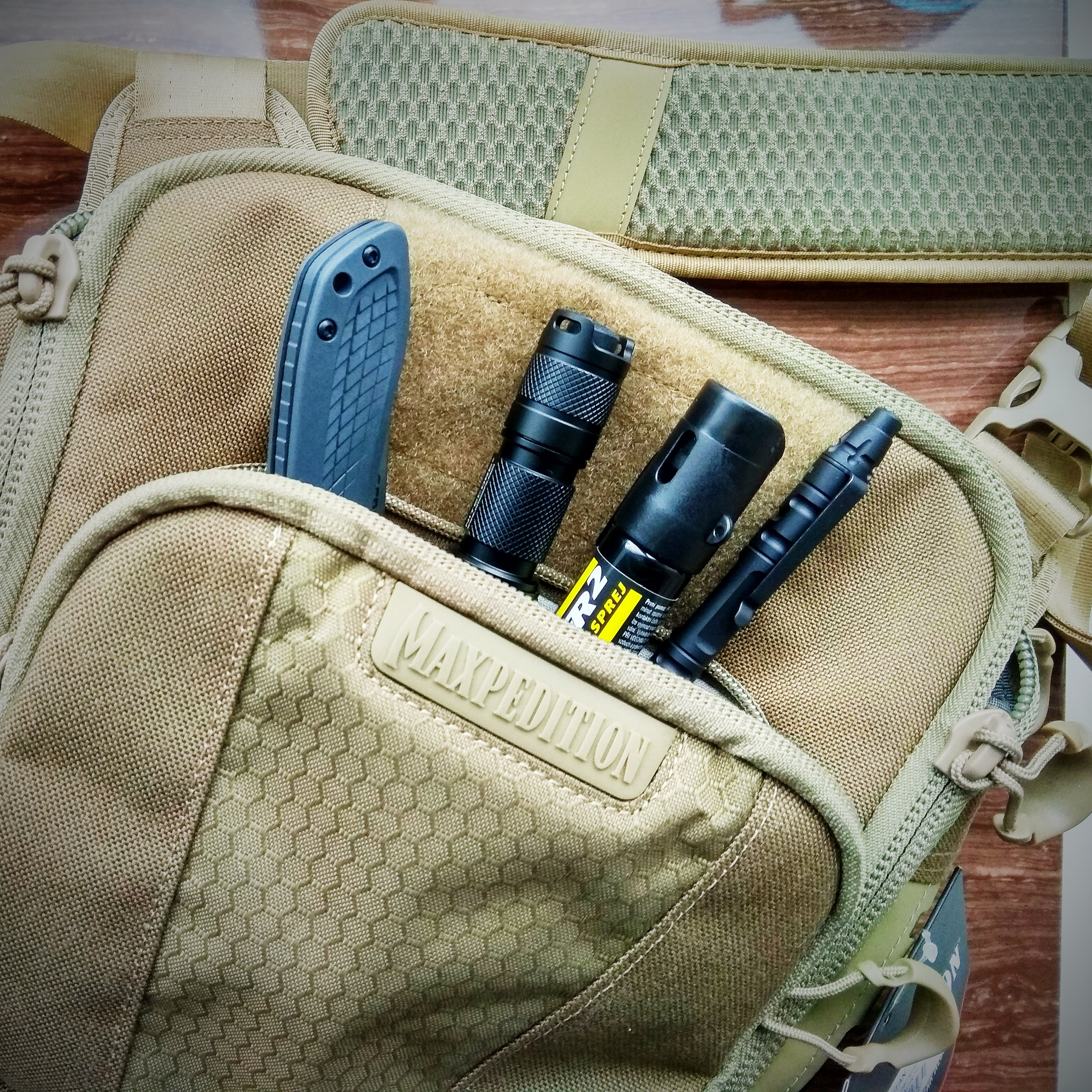 Bags, cases, organizers
It is understandable that trifles in EDC are numerous. It is therefore good to store your equipment in cases and organizers. Properly folded and accessible pharmacy is certainly more useful than a welter of bags and packages strewn somewhere in the pocket of a backpack. Keep your equipment in good condition and accessible, otherwise there is no point in carrying it with you.
Conclusion
We hope we helped you a little to get your bearings in the EDC term and perhaps we inspired you a little. The good old adage says, "I don't need what I don't have." But on the other hand, it's good to be prepared and not regret it later: "Fortune favors the prepared".